ZGametools Renderer
ZGametools Renderer is at an early stage of the development, this article is outdated.
Renderer Toolset is dedicated to rendering/illustration work.
Rendering batch process
The Module propose a rendering batch process that can output different types of render passes using BPR. The Rendering batch process , render the subtools in accordance to their visibility options ( selected, visible,all) During the Rendering Batch process each passes are saved on disk within the workdspace, you've defined in workspace manager.
Output render passes :
Shaded, Depth, Mask, Ambient Occlusion, SSS, Flat, polygroups, SpecularView, Normal map, Cavity, Curvature, Shadows, Floor and 12 bpr filters.
Format output :
PSD, PNG, JPG, TIFF
Canvas resolution manager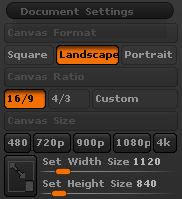 Define the canvas format ( square, landscape or portrait )
Then define the canvas Ratio ( 4:3, 16:9, custom)
then let's click on the desired height value, this will resize the canvas to match the format and ratio.
Camera Manager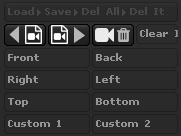 Almost exact replica of the "
Document : ZappLink Properties
" panel. Store your Camera view into the 8 available slots ( front, back, right, left, top, bottom , custom 1 and custom 2) You can save/reload all the views stored as a file within the workspace directory.