Installing Source SDK and Source SDK Base
Source SDK
Open steam
Go Library > Tools > Source SDK
Install Source SDK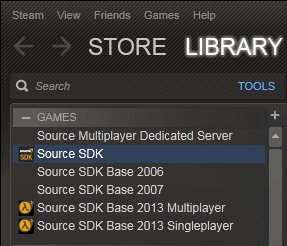 Source SDK Base
Games
SDK base Version
Half-Life 2

Source SDK Base 2006
Source SDK base 2013 SinglePlayer

Half-Life 2 Episode 2

Source SDK Base 2007
Source SDK base 2013 SinglePlayer

Half-Life 2 DeathMatch

Source SDK base 2006
Source SDK base 2013 MultiPlayer
The Source SDK Launcher
When the source SDK is installed , launch it.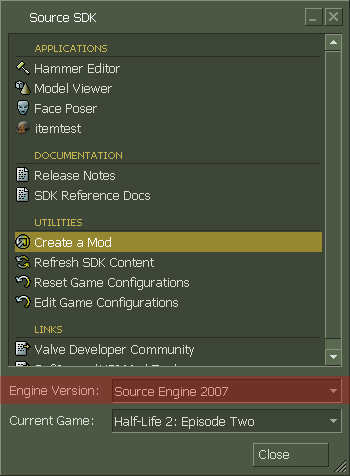 Select the Engine Version and double clic on Create a new mod.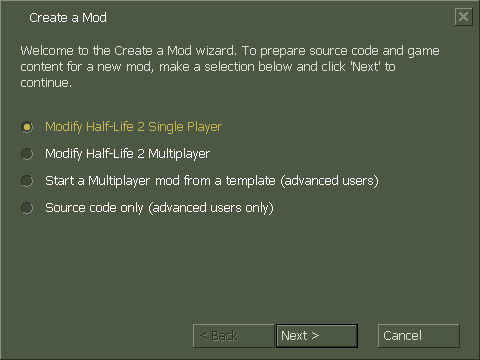 You can choose between the first three options
modify HL2 Single player
modify HL2 Multiplayer
Multiplayer mod from template
Set up the Mod paths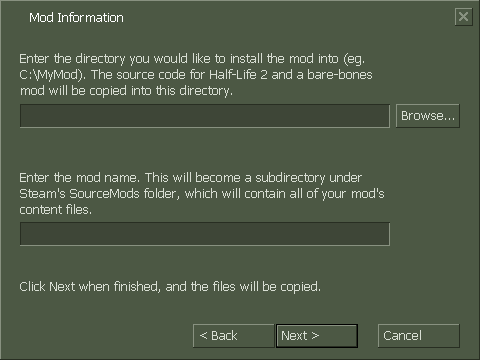 1. The first path is the place where the mod Source file will be stored
this directory contains
mapsrc
materialsrc
modelsrc
This path can be what you want ( ex : c:/mymod/ or in sourcemods as : "/sourcemods/mymod_source/".
Note : This is the place where Mesa have to be located.
Important : This directory must not have a gameinfo.txt at his root.
the second string field to fill is the Name of your Mod project, as a directory in steamapps/sourceMods/ will be created with the name you choose.
note : prevent to add space and exotic characters.
This is the directory of the final mod, the one you will launch from steam to run your Mod.
And it contains :
maps
models
materials
gameinfo.txt
Additional informations : Create a mod on Valve Developer Community.