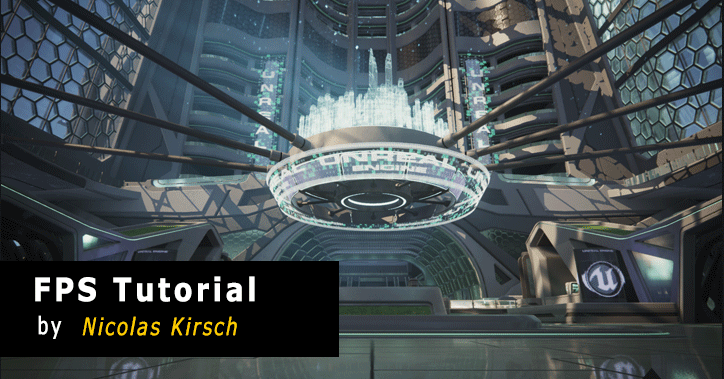 Introduction
Ce mini tutoriel a simplement pour but de commencer un projet de FPS dans les meilleurs conditions, afin de gagner du temps au démarrage de votre projet.
Voici le sommaire :
Télécharger la demo ShooterGame
Créer un Template à partir de la démo Shooter Game (c++ source inclus)
Creer votre projet depuis le template que nous venons de créer.
Première partie – Préparatifs
Télécharger la demo ShooterGame
Démarrer le launcher Unreal Engine 4
Direction le maketplace
Télécharger la demo nommée Shooter Game by Epic Games
Deuxième partie – Création du template
Créer un Template de Shooter Game (c++ source inclus)
A) Une fois que vous avez téléchargé la démo de Shooter Game,
Depuis l'explorateur de window, rendez vous Ici :
C:\[Users]\fuzz\Documents\Unreal Projects
Vous devez copier le répertoire "ShooterGame" dans le répertoire Templates où est installé Unreal Engine, ce qui doit correspondre à ceci :
C:\Program Files\Unreal Engine[Version]\Templates\ShooterGame
B) Nous allons renommer le Template correctement
pour ce faire aller dans "templates\shooterGame\config\" et ouvrez "defaultGame.ini avec Notepad, ou encore Notepad++ pour le modifier.
Remarquez ces lignes de code à la fin du fichier :
[/Script/EngineSettings.GeneralProjectSettings]

Description

=

A

example

for

a

first

person

arena

shooter

game

ProjectID

=

6CAED3B04D670B2167EBABA685ED35F9
Vous pouvez ajuster à votre convenance le nom du template.
C) Retournez au répertoire Template, et ouvrez le répertoire "Templates\TP_FirstPerson\config"
Copiez le fichier nommé "TemplateDefs.ini" dans le répertoire Config de votre template.
Ensuite ouvrez le fichier avec Notepad ou Notepad++ afin de le modifié.
Maintenant, repérez ces lignes de codes :
[/Script/GameProjectGeneration.TemplateProjectDefs]

LocalizedDisplayNames

=

(

Language

=

"en"

,

Text

=

"FPS Game"

)

LocalizedDescriptions

=

(

Language

=

"en"

,

Text

=

"A project that features a first person perspective camera, with a movable player character and an example projectile weapon inherited from shooterGame demo."

)
Il n'y a plus qu'a ajuster les informations sur les lignes "LocalizedDisplayNames" et "LocalizedDescription"
Troisième partie – Création du projet
Créer votre projet depuis le Template
Fermer Unreal Editor si l'application était déjà ouverte, afin que unreal détecte le template lorsque vous relancer l'éditeur.
Le manager de projet s'ouvre , et maintenant le template devrait apparaitre.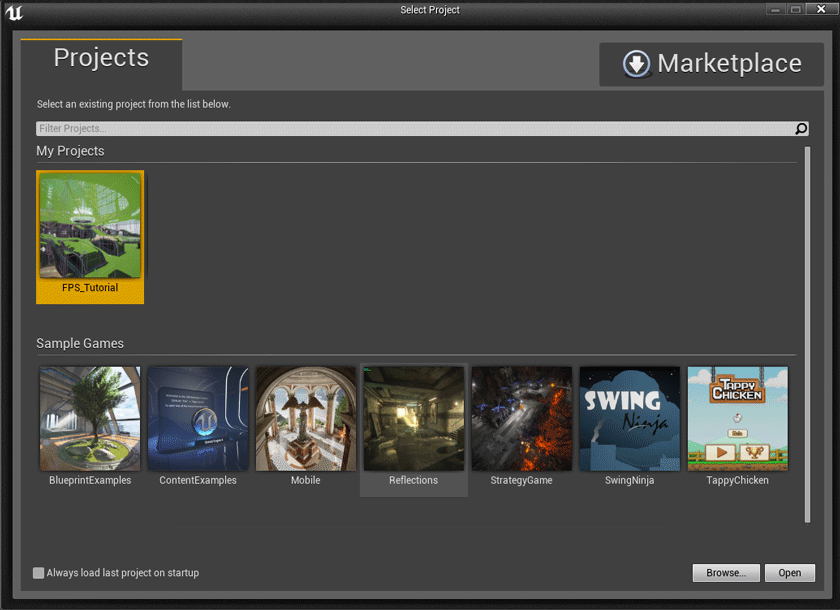 Nommez votre projet, et choisissiez la localisation sur le disque , de l'emplacement où le projet doit etre stocké, puis validez.
Voila le projet est en cour de préparation, il n'est pas utile de copier le starter kit, c'est vous qui voyez :)
Par contre si vous lancez le jeu, vous allez avoir des probleme parceque nous navons pas compiler le code source.
Quatrième partie – Compilation du code source avec Visual Studio
Depuis l'Unreal Editor avec le projet charger, vous dever allez dans File > Open Visual Studio
Quand Visual est charger , fermer unreal Editor, parce que nous allons compiler pour la premiere fois.
Faites un clic droit sur le projet puis Rebuilt.
Si vous avez de la chance vous navez aucune erreure de compilation, mais çà aurait été trop facile, donc il y'a forcement un problème.
Si c'est votre cas, notifier moi ce probleme, afin que je mette a jour le tutorial.
Donc la fameuse erreur est la suivante :
Your_ProjectLoadingScreen

.

cpp

>

error

C2065

:

'AShooterAIController'

:

undeclared

identifier

>

error

C2059

:

syntax

error

:

'>'

>

error

C2976

:

'TArray'

:

too

few

template

arguments

>

G

:

\

Unreal

Engine

\

4.0

\

Engine

\

Source

\

Runtime

\

Core

\

Public

\

Containers

\

Array

.

h

(

357

)

:

see

declaration

of

'TArray'
Afin de régler cette erreur, vous avez besoin de modifié le fichier "YourProjectMode.h" (remplacer Yourproject" par le nom de votre projet.)
Maintenant allez la ligne 88 /89 pour trouver ces deux lignes de code :
TArray

<

AShooterAIController

*

>

BotControllers

;
et remplacer par ce code :
TArray

<

class

AShooterAIController

*

>

BotControllers

;
Voila, maintenant faites un rebuilt de la solution et le projet devrait compiler correctement.
Conclusion
Quel est l'interet de ce tutorial ?
Eh bien tout simplement pour gagner du temps et ne pas avoir à re-programmer les bots, les armes et les pickup intégralement.
N'hésitez pas a poster des commentaires
-red