After I added a professional tangent normal mapping algorithm  to bake your textures with the best quality as possible using the ZGametools Texturer Toolset.
I wondered to myself what would be the best feature that all pro would like to get to complete the workflow in ZGametools.
Let me introduce you the "Smart" and "Extendable" Javascript support for ZGametools and Photoshop.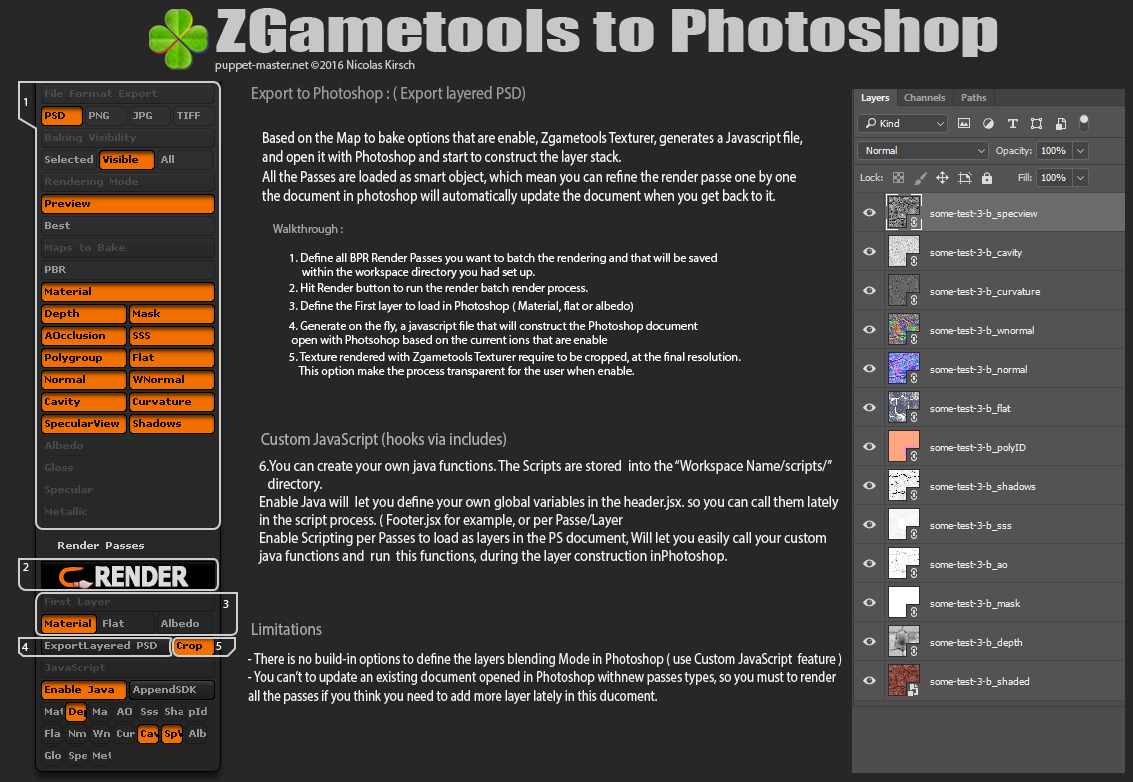 The feature is available at the moment in ZGametools Texturer and ZGametools Renderer, And soon for ZGametools Baker but i must to complete the support of Substance BatchTools before.
Well  instead of sending files one by one, using the ZGametools Core , I took the decision to invest of my time developing a function that build on fly a "Smart" and "Extendable" Javascript file to run with Photoshop CC.
Like it was on my priority list, and the architecture of the ZGametools that got a complete Project Workspace Manager would match ideally to organize such of new tools.
I got to invest some time o understand how to write javascript to automate tasks in photoshop, and finally
It generates off the Rendering Batch Process, a Javascript file that defines the rendered passes to send to Photoshop,  based on the options set in ZGametools Render options Panel.
The architecture of the script generation you create from Zbrush , has been thought to be entirely hooked  the most simply as possible.
Simply click on Append SDK  button, and it will create a "Scripts" directory (with sub-dir and files) structure of file ready to be edited within the your Project's workspace directory
Insanely easy to edit and to add news actions you would like to automate during the document construction process in Photoshop.
All my Toolsets are Coded with love for Artists.